Version: 6.5
Calendar
New Update
We are excited to inform you that we are working on an updated documentation which will be released soon. In the meantime, you are welcome to use the current version as it remains completely valid for your needs.
Introduction​
Calendar in Axelor allow you to view the events and tasks in which the user participates or organizes. Classic events, holidays or CRM events. These calendars can be synchronized with external calendars. Synchronizing calendars with external calendars (.ical format) such as Google Calendar, gives access to the consultation and/or modification of events in other computer applications.
Me events: you will find here all your events
My CRM events: here you will find your events related to customer relationship management.
Configuration : My calendars: allows you to create and view your calendars Shared with me: allows you to view the calendars shared with you.
Consult the events​
Calendar > My events
This menu item displays all current user-related events, which can be viewed by month, week or day. It includes: iEvent calendar events, CRM events, events shared with me. You can determine the visibility of these events from the Calendar > Configuration > Shared with me menu, by checking the visible box of the calendar in question.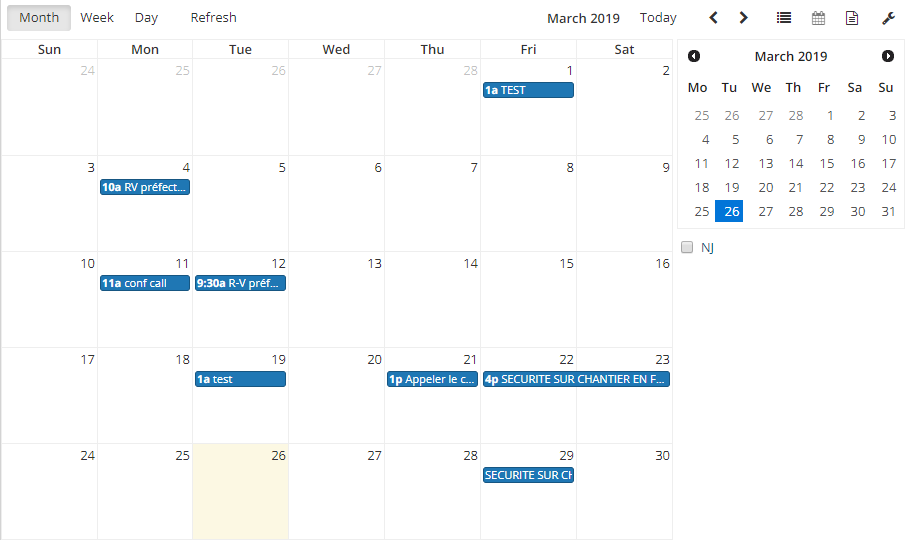 info
You can edit an event from the calendar view.
Other types of events​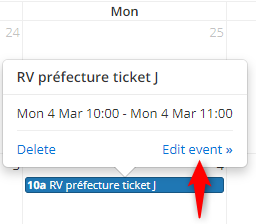 Create and share a calendar​
Calendar > My events
After giving a name to your calendar, enter the connection settings in the dedicated tab.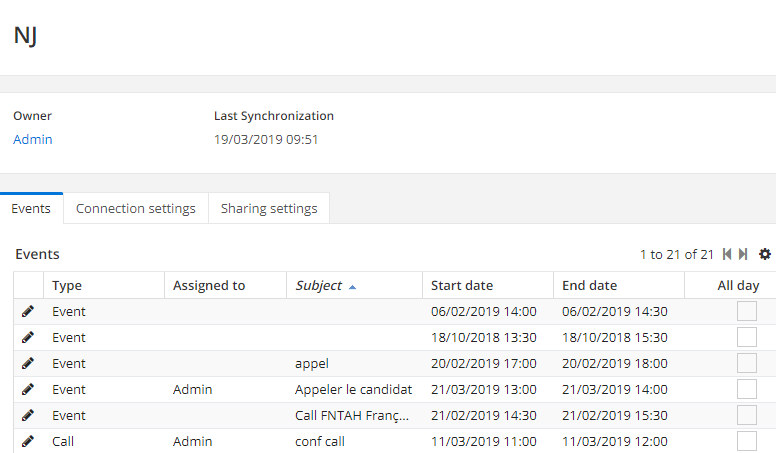 info
You can also choose a calendar via User Preferences > Main Calendar
info
You can enter sharing settings in the dedicated tab, by selecting a user and the rights granted to him/her.
Synchronize a calendar​
In order to synchronize the calendar of your email (Google) with the ABS interface, for example, you must set up this synchronization.
You must fill in the fields like this:
URL: calendar.google.com (for GCAL)
Type: the type of your external calendar, for example GCAL for Google Calendar.
Enable SSL if necessary: The SSL protocol secures synchronization by encrypting the transport layer.
Advanced synchronization: it is very important to specify the type of event to synchronize. By specifying that it is a CRM synchronization, when modifying from the remote calendar the CRM event will be modified not only in the iEvent calendar but also in the calendar of the CRM module.
Synchronization period (week): number of weeks before and after the synchronization date, only the events of this period will be synchronized, this choice can also impact the synchronization processing time. It is not recommended to exceed 1 week for performance reasons.
Priority to the remote calendar: by checking this box you prioritize the remote calendar when synchronizing the two calendars.
Identification: Before any identification it is necessary to authorize the connection of the ERP to your external account, for Google Calendar it is enough to check this box via the following link "https://myaccount.google.com/lesssecureapps". Enter your login details and login.
Import / export a calendar​